Alert! CBSE to Re-conduct AIPMT 2015
0
0
By supriya - Jun 17 ,15
Media Sources have revealed that  AIPMT 2015 Paper is leaked . The news has been going viral over the internet and trending on social media channels like Facebook and Twitter. The Supreme Court of India has passed the order to re conduct the exam within 1 month.
"This is just not a victory of students only but for the medical profession as well" adds lawyer for one of petitioners.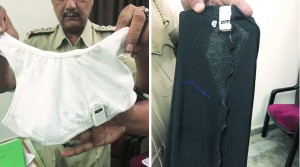 AIPMT 2015: A police officer show vests concealing bluetooth devices that were used by students to cheat in the AIPMT exam.
The Supreme Court of India has discarded the 2015-16 All India Pre-Medical Test (AIPMT), stating that the examination conducted on May 3 has become a "suspect" after it was "vitiated to the core by the use of deceitful means and measures to benefit" some candidates appearing for the exam.
The court has directed CBSE to conduct a re-exam within four weeks, a bench of Justices R K Agrawal and Amitava Roy stated that "if such an examination is saved, merit would be a casualty generating a sense of frustration in genuine students, with aversion to the concept of examination".
This year, more than 6.3 lakh students had appeared for the AIPMT exam held to fill the approximately 3,200 MBBS/BDS seats available.
According to a recent survey, 78% Percent student said Yes, CBSE should conduct AIPMT 2015 exam again and 64.3% people said that the CBSE is trying to save its face by denying the entire incident.
'