Is Hindi Actually India's National Language?
0
0
By supriya - Aug 04 ,15
Hindi is spoken almost in every part of the country and this makes us believe that it is our national language. On the contrary, Gujarat High Court has observed that though majority of Indians have accepted Hindi as a national language although there was nothing on record to suggest that any provision has been made or order issued that declares- Hindi to be the national language of India.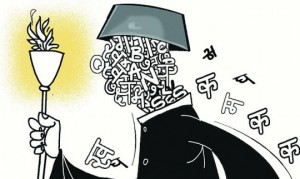 The observation was made by division bench of Chief Justice S.J. Mukhopadhaya and justice A.S. Dave recently while rejecting a Public Interest Litigation (PIL) by one Suresh Kachhadia.
Mr. Kachhadia had filed the PIL last year seeking direction to Central and State government to make it mandatory for manufacturers to print details of goods like price, ingredients and date of manufacture in Hindi.
However, India does not have a national language. There is a difference between a national language and an official language. While a national language would have a patriotic and nationalistic identity, an official language is one which is designated for communication at the official level.
The court observed, "Normally, in India, majority of the people have accepted Hindi as a national language and many people speak Hindi and write in Devanagari script but there is nothing on record to suggest that any provision has been made or order issued declaring Hindi as a national language of the country."
"No mandamus can be issued on any manufacturer or others for giving details or particulars of package in Hindi in Devanagari script," it further said.
It was contended by Mr. Kachhadia's lawyer that Hindi was the national language and was understood by a large number of persons in the country.
The Counsel representing central government submitted that specific provision has been made under the Standard of Weight and Measures (Packaged Commodities) Rules of 1977 that particulars of declaration should be in Hindi in Devanagari script or in English.
The court said that the Constituent Assembly while discussing the Language Formula noticed the recommendation of the Sub-Committee on Fundamental Rights, which recommended the formula as per which, "Hindustani, written either in Devanagari or the Persian script at the option of the citizen, shall, as the national language, be the first official language of the Union. English shall be the second official language for such period as the Union may, by law, determine."
However, in the constitution, Hindi was declared as an official language and not a national language.
Get more of Current Affairs and General Awareness in Josh Shop
'