Delhi Girl Gayatri Tops 12th Boards With 99.2%
0
0
By supriya - May 26 ,15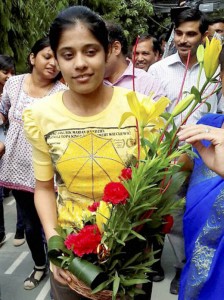 M Gayatri of New Green Field School in Saket, Delhi, has scored the highest marks in the CBSE Class 12 exams this year. She scored a total of 496 out of 500 making it to 99.2%. Mythili Mishra from Amity International School, Noida, Saurabh Bhambri of KRM World School, Greater Kailash II, Delhi, and B Arjun of Kendriya Vidyalaya Pattom, Thiruvananthapuram, were placed second with a score of 495 out of 500 (99%). Gayatri is from commerce stream, while both Mythili and Saurabh are from humanities.
Last year's topper, Sarthak Aggarwal scored a total of 99.6%: the highest ever in CBSE Class 12.
In the results announced today, girls once again outperformed boys with a pass percentage of 87.56%. Boys could only score a distant 77.77%. The overall pass percentage this year is 82%. Last year it was a shade better at 82.70%.
The pass percentage of Chennai region, which includes Mumbai, dipped to 91.4% this year from 92.89%, but it bagged the second position across the country. Alrice Dorine Alva from Don Bosco School, Navi Mumbai, made it to the national merit list with 471 out of 500, scoring 94.2%.
In this region too, girls fared better than boys with a pass percentage of  92.13%, as compared to the 90.32% of boys. Last year, girls scored 93.13% and boys lagged behind with a little over 90%.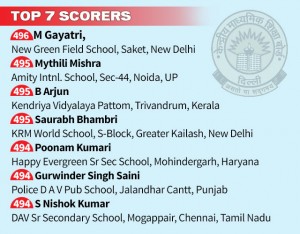 '