Time To Say Goodbye To The 2-Minute Noodles?
0
0
By supriya - May 22 ,15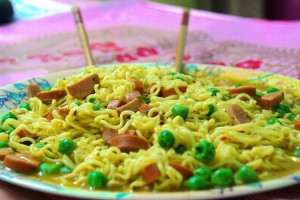 Be it midnight hunger, after tea snack or a get together fun- Maggi has always been our companion. Since our childhood we know that Maggi will never let us be hungry. But are the "Taste bhi, Health bhi" noodles actually healthy?
Maggi maggi maggi! Think 10 times before you order or cook Maggi any further. The 2-minute noodles have come under a regulatory scanner as it reportedly contains monosodium glutamate (MSG) and lead in excess of the permissible limit.
The samples collected in some parts of Uttar Pradesh were found containing added MSG and lead in excess. Such additives are said to be harmful for health, mainly for children.
Lucknow Food Safety and Drug Administration has initiated inquiry and written to the Food Safety and Standards Authority of India (FSSAI) in New Delhi seeking to cancel the licence for Maggi. The state regulator has also asked FSSAI to order sampling of the product from across the country to check quality, officials said.
"We do not add MSG to MAGGI Noodles and glutamate, if present, may come from naturally occurring sources. Food regulators in India also do not specify any limit for the presence of MSG/Glutamate," a Nestle spokesperson said.
Despite a widespread belief that glutamate can elicit asthma, migraine headache and Chinese Restaurant Syndrome (CRS), there are no consistent clinical data to support this claim. In addition, findings from the literature indicate that there is no consistent evidence to suggest that individuals may be uniquely sensitive to glutamate," according to this information published on the National Center For Biotechnology Information (NCBI) website.
'