Ashish Patial; a biker, a player and MAT Feb 2014 Topper!
0
0
By supriya - Aug 17 ,15
Fond of reading, a football lover and loves to ride his bike- We're talking about none other than Ashish Patial, the MAT Feb 2014 topper from Chandigarh who scored an impressive 800/800 score, holds a diploma from Indo-Swiss centre, CSIO, Chandigarh. He also completed his AMIE course – equivalent to a BE degree- from the city based Institution of Engineers.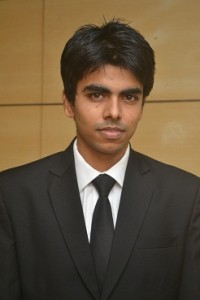 Currently employed with Global SGS, Chandigarh,  Patial aims to get through Jamana Lal Bajaj Institute of Management Studies (JBIMS).
"In the last two years, I studied way more than I studied in the last 22 years of my life. I guess, my hardwork helped me crack the exam", He shares
Patial's results of all his attempts are below-
MAT: 99.99 percentile (800/800)
CAT (1ST attempt): Around 97 percentile (don't exactly remember)
CAT (2nd attempt): 98.5 percentile
Patial was actually preparing for CAT so the groundwork for MAT was already done.
Even after being a working professional, he manages to take out time to study. Generally, it takes dedicates 3-4 hours a day if you want to crack the exam. "There are times, when I have to work for 24 hours, so I have to skip the studying part. So, I manage my studies during holidays.  On holidays, probably, I study for around 9-10 hours." He adds.
If asked about his preparation strategy, Ashish tells that his strength lies in mathematics, so he practiced it more. The subject you're good at can be a game changer.  "I was good in the subject but for the exam, I aimed to be excellent to increase my overall score. I also aimed to be good in English and thus focused more on this subject. If I have to rate myself on the scale of 10 (before my preparation), I would say, I was 2-3 in English and 6-7 in maths. But after my preparations, I was 9-10 in maths and 6-7 in English." He shares. This tells that it is important for an aspirant to keep a track on his strength and weaknesses.
Coaching is a very important part of preparation but for those who need guidance. If you are a self-motivated person, then there is no need. A sincere, dedicated time and rigorous preparation will help you crack the pot.
Following are some quick tips given by Patial to other aspirants-
Know your strengths and weaknesses
Practice mocks
Good speed is a  must
Leave your ego outside the examination area
You should know which section you should target first
Source: Shiksha.com
Get the best study material and crack MAT or any other competitive exam with Jagran Josh Shop.
'