Shrikant's Tale- An Auto-Driver Turned Into A Pilot
0
0
By supriya - Jun 22 ,15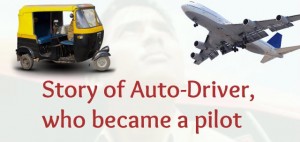 Nagpur's Shrikant still drives a three-wheeled vehicle- the difference is HUGE! Earlier the three-wheeled vehicle was an auto-rickshaw and now, its an aircraft!
With the passion and determination to fly and a little support from destiny, Shrikant today has achieved his childhood dream.
Born to a security guard Pantawane, Shrikant used to be a delivery boy in his school days in order to support his family's dwindling finances. He later on became an auto-rickshaw driver.
At a very mild age, Shrikant was burdened with heavy responsibilities but he was determined to complete his studies. He would work during the days and study at nights.
One fine day, Shrikant saw a step which could travel him to his dreams, he had to go to an airport to deliver a parcel where he spotted a man dressed smartly in a white attire. After enquiring, Shrikant was told that he was a Pilot. Curios enough he spoke to the cadets where he learnt that one could also become a pilot even without being inducted in the Indian Air Force. His conversation with a tea-seller outside the airport apprised him of a pilot scholarship program by the DGCA. There was no stopping for Shrikant after this.
That was a moment when he decided he would be a commercial pilot. Right after a successful 12th result, he joined a flight school in Madhya Pradesh; the biggest obstacle for him was English that made him too inferior. Taking the bull by its horn, he accepted the challenge and defeated the barrier.
The anticipation for Shrikant to soar the skies in a commercial aircraft finally came to an end when he got selected IndiGo. He is now a first officer also known as second pilot or co-pilot with the airline. Commercial pilots start their career as a first officer. The motivational story of this auto-driver turned aircraft commant reveals that if you have a dream coupled with determination, the destiny gives you wings to fly high.
Turn your dream into reality with the ultimate collection of preparational books from Jagran Josh Shop.
'