So This Is MAT 2015!
0
0
By supriya - Apr 09 ,15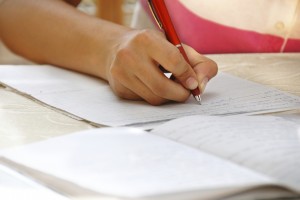 Name of the exam: Management Aptitude Test (MAT)
Educational qualification:
The minimum qualification for appearing in MAT is graduation in any discipline from any recognized University or equivalent recognized degree. A final year student in any undergraduate (i.e., B.A., B.Sc., B.Com., B.Tech., etc.,) can also appear provisionally. Usually, there is a minimum percentage requirement in graduation, which is different for different MIs / University
Scope after clearing MAT: Clearance the MAT exam with good score leads to enrollment in preferred institutes that consider MAT results.
Career Options: An MBA course helps in getting a lucrative management-level job. Many institutes hold campus interviews where the candidate gets to directly interact with different companies
Nature of MAT Test: MAT tests the basic knowledge and application skills in a candidate in various test areas. It is designed and developed to ascertain the aptitude of the candidates to undergo Post Graduate Programme in Management. It is an objective type test with multiple-choice answers. Questions are more direct and formula-based, testing the basic IQ in a candidate. MAT has five sections, each section consisting of forty questions. Hence, a total of 200 questions need to be attempted over 150 minutes.
How to Apply
To obtain MAT Bulletin and Application Form by post, send a Demand Draft of Rs. 1050/- to AIMA-CMS, drawn in favour of "All India Management Association" payable at New Delhi alongwith two self-addressed slips / adhesive stickers. Send your request to The Manager – CMS, All India Management Association, Management House, 14, Institutional Area, Lodhi Road, New Delhi-110003.
MAT Bulletin & Application Form can also be obtained on cash payment of Rs. 980/- at AIMA Counter at Delhi (Telephone: 011-24653382), select Bank of Baroda (BoB) Branches, AIMA Nodal Centres and other sales outlets.
Test Duration & Pattern (MAT May 2015)
Section No.
Section
No of Questions
Time Suggested
(Minutes)
1
Language Comprehension
40
30
2
Mathematical Skills
40
40
3
Data Analysis and Sufficiency
40
35
4
Intelligence and Critical Reasoning
40
30
5
Indian and Global Environment
40
15
 
Total
200
150
'