Career as a Fashion Designer in India
0
0
By supriya - Jul 15 ,15
Does fashion and trends attract you and make you think more about it? When you see a celebrity walking the red carpet wear a white dress do you think "This would look better with a blue belt"? "Fashion" "Creative designs!" "Stylish!"- Do these words sound awesome to your ears? If the answers are yes then you can absolutely pursue you career as a fashion designer. This career is the best way to showcase your creativity and talent. Read further the amazing piece of information about this glamorous career option.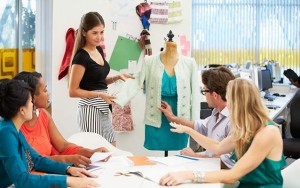 Fashion has always been persistence in every culture. Even if you look back at the history, you'll learn that the Mughals and other Emperors had their own fashion advisors and specialized tailors. As the time passes by, the trends keep changing. Fashion Designing would sounds more like a cliché but trust us it is not. This is one of the most demanded field of career especially in the glamour world.
This is the era where society has accepted the requirement and is highly influenced as well as inspired by fashion sense. Though become a prominent fashion designers would require a concise set of skills, creative thinking as well as professional learnings and can make your journey more challenging- but once you get there, you're done! After you complete the challenges and fight the competition, your career in fashion designing will not only result into a lucrative profession but for some inspired people it's a means to satisfy their creative wants. They want something of their own – like brand, name, fame and of course money!
A famous celebrity fashion designer Manish Malhotra said "Creativity is like a thirst, you keep quenching for it." The designer made his inroads with the world of Bollywood and became one of the most recognized names in the fashion industry internationally.
Various other Indian designers are very well known in global circles and have been successfully displaying their creativity at International fashion shows. Ritu Beri was India's first designer ever to step global with her collection of designs. She showcased her collections in Italy and received an overwhelming response. Her selection of colors, fabrics, cuts and patterns suiting the global taste along with the hint of traditional style, made her designs very prominent.
Other known faces in the Indian fashion industry are Satya Paul, Ritu Kumar, Manish Arora, Sabyaschi Mukherjee,  Neeta Lulla, Rohit Bal, Hemant Trivedi, Shahab Durazi, J.J Walya, Shantanu & Nikhil and Krishna Mehta. Most of these started from the scratch and achieved fame and name with their own efforts.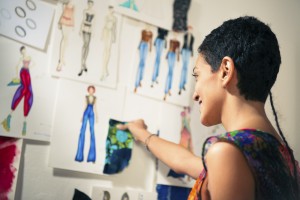 Skills required for Fashion Designing-
Creative & Artistic
Authenticand inventive
Good knowledge of colors, shades and tones
Ability to think in three-dimensions to translate into garments what they visualize
Good communication
Resilient
Business acumen
Interest in sketching
Eye for detail
Visual imagination
Fashion conscious
Persuasive
Observant
Understanding of market and customer lifestyle
Exams for Fashion Designing-
AIEED (All India Entrance Examination for Design)
NIFT Entrance Exam
Common Entrance Exam of Design (CEED)
NIIFT Mohali
Pearl Academy of Fashion- Combined Proficiency Test (CPT) and Design Aptitude Test (DAT)
School of Fashion Designing, Pune (SOFT)
NID: National Institute of Design
Prepare to crack the above exams and get the best study material on Jagran Josh Shop. Visit now.
' Hi Supriya, thank you for writing such a informative and motivating blog which will help other students to make a career in this field. Here are some books to prepare for NIFT, NID. • Arihant NIFT/NIFD/NID Entrance Exam Self Study Guide • NIFT/NID Entrance Exams: Ultimate Success Series • NIFT/NID /IIFT Entrance Exam - Self Study Guide • NIFT/NID/IIFT Entrance Exam Guide • NIFT/NID/IIFT Entrance Exam Guide by Surendra For CEED preparation you need to focus on the following topics: Creative writing skills, color theory, communication skills, design concept, light and shadow, logical reasoning, and product designing. You need to prepare for all these selections. For CEED preparation, the paper has two parts. Part A has multiple-choice questions and there is negative marking of 0.5 for wrong answers. For more information, you can check with afdindia as their study material comprises of everything you will need to prepare well for the exam. Also, their expert faculty will clear your doubts.Hope this information is useful.For more information you can check http://www.afdindia.com/programs/classroom-programs.html