Delhi University's Bizarre Cut-Offs
0
0
By supriya - Jun 29 ,15
The constantly rising cut offs of Delhi University for undergraduate courses ahs reached to a bizarre level where the eligibility has been set for certain categories of students that went beyond 100%.
For example, a student without Economics in class XII would need to have scored 100.75% in the best-of-four (BO4) subjects to secure a seat in Economics at the prominent Shri Ram College of Commerce or Hans Raj. Similarly, at LSR or Lady Shri Ram College, an aspirant needs to have an aggregate score of 100.5% to get Psychology course.
While a quick glance at the first cutoff does not show any 100% cutoffs, the hidden additional criteria signifies that an Economics aspirant in SRCC, Hindu, Hans Raj, Kirori Mal, Ramjas, LSR and Miranda House would need a total of 100% and above marks in BO4 if the candidate did not study the subject in class XII.
This, however, is not restricted to Economics. Stream change students applying for B.Com (H) in LSR and Ramjas, Political Science in Hindu, Kirori Mal and LSR and History in Hindu would as well need 100% and above marks.
If this surprises you enough then read further- Cutoffs has even reached 100% for BSc (H) Computer Science at the College of Vocational Studies (95-100%) and at I P College (97-100%), the perfect score being demanded of science stream students who did not have computer science as a subject in class XII.
Delhi University colleges have taken the 'play it safe' policy to a completely different level and so the cut offs give no further surprise, colleges has their points to support this trend.
Justifying these cutoffs, Ms. Kanika K Ahuja, Lady Shri Ram's media coordinator and psychology professor, said 39 applicants who had Psychology in school and secured 98% or above had applied for the course. The number was far greater than seats on offer for the course. "Some of them may go to Economics or History or some other subject. But we won't know until they do," said Kanika.
Following is the cut off structure-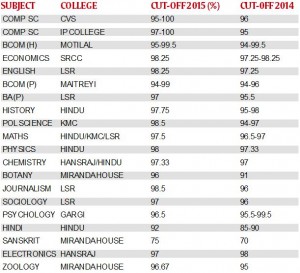 '