Mary Kom- an Inspiration for Women
0
0
By supriya - Jan 02 ,15
If not the lady with lamp but apparently Mangte Chungneijang Mary Kom is the lady of inspiration, who not only challenged the orthodoxy of society but also was successful in imprinting the message of struggle and toil that leads to glory. Perhaps, she was the first to blow the whistle of awakening the world by balancing her personal life and professional career in such a way that it brought upfront the glimpse of excellence.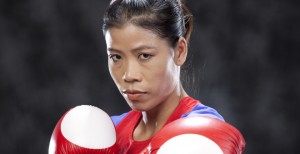 Born in Kangathei, in Churachandpur district Manipur to a farming family, she had different plans set for her, and as a belligerent daughter to her parents, she looked beyond the mundane objectives to make it big in the chapters of athletics. Having keen interest in athletics, she started her training under the hawk eye of M. Narjit Singh, Manipur State Boxing Coach at Khuman Lampak,Imphal. The rest was history as we all witnessed how she spread like a flying bird in the arena of Olympics.
She went on becoming five-times World Amateur Boxing Champion and ever since her legacy is continuing and is still counting. Meantime, she got married and has two twins; however, that didn't stop her from the quest of achieving the professional goals. She personifies a master figure and portrays a pivotal character, who knows how to maintain a balance between personal life and professional career single-handedly.
Her selfless and poignant states of being made her start a female-only fight club at Imphal to teach girls to defend themselves against sexual violence. Truly, all these depict the heroism and patriotism of a real Indian Woman, setting an example for others.
Moved by her nobility and life achievements, a movie on the life of Mary Kom was released this September, which touched the heart of millions in the pursuit of woman empowerment.
'